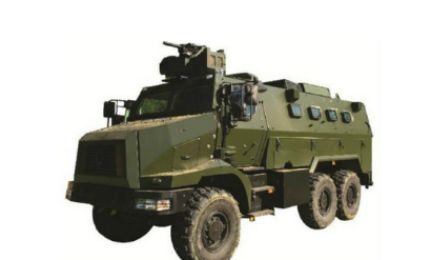 The Peacekeeper Protected Response Vehicle (PRV) is a 6×6 armoured vehicle jointly developed by the Army and the Defence Science and Technology Agency (DSTA).
The vehicle was inducted into service with the Singapore Armed Forces' (SAF) 2nd People's Defence Force (2PDF Command) in July 2015. It is intended to perform security missions at key civilian and military facilities across the country, and offers superior protection and precise firepower for island defence operations.
Peacekeeper PRVs will replace the Army's ageing V200 armoured vehicles that were introduced in 1970. The V200 fleet will serve the 2PDF Command until they are gradually retired in 2016.
Peacekeeper PRV design and features
"The Peacekeeper PRV is installed with a remote control weapon system (RCWS) for mounting a range of weapon systems."
Peacekeeper PRV is a derivative of the Higuard MRAPmanufactured by Renault Trucks Defense. The vehicle incorporates an armoured hull made of steel and features a conventional layout housing engine in the front, crew cab in the centre and troop compartment at the rear.
It can accommodate up to 12 crew members, including a driver, a commander and ten infantrymen.
The crew can enter and exit the vehicle through two doors, one on either side of the forward hull. Troops can access the vehicle via a power-operated ramp at the rear, while an emergency exit is provided by roof hatches.
The vehicle is 7.48m long, 2.55m wide and 3.54m high. It has a gross vehicle weight (GVW) of 17,500kg and can carry a maximum payload of 4,000kg.
Peacekeeper PRV is also fitted with a rear video camera, front and rear search lights, public address system, and red and blue flash lights.
Armament fitted to the Peacekeeper PRV
The Peacekeeper PRV is installed with a remote control weapon system (RCWS) for mounting a range of weapon systems.
The RCWS can be mounted with a 40mm automatic grenade launcher (AGL) or a 12.7mm heavy machine gun (HMG) or a 7.62mm coaxial machine gun (CMG). It is further fitted with an integrated optical/thermal imaging/eye-safe range finder, which allows the gunner to aim and engage targets accurately when the vehicle is static or on the move.
Onboard weapons can be safely operated by the crew from inside the vehicle, allowing the troops inside to launch a counter-attack with heavy and accurate fire. Modular components of the weapon station can be easily reconfigured according to mission requirements.
Self-protection
---
---
Terrex provides troops with enhanced protection, mobility and optimum firepower in a single vehicle platform.
---
The armoured vehicle protects its occupants from small-arms fire and fragments from grenade blasts. The Peacekeeper can also withstand dangerous threats such as improvised explosive devices (IEDs). It is outfitted with a bulletproof windshield and windows, protected fuel tank structure, and onboard fire suppression system.
Engine and mobility of the protected response vehicle
Peacekeeper PRV is powered by a six-cylinder Renault MD7 engine coupled with a manual or automatic transmission system. The power-plant allows the vehicle to attain 50km/h within 15 minutes.
The vehicle has a maximum speed of 90km/h and is capable of operating across different terrain types.
Suspension includes a five-mode differential locking system for better traction. The inbuilt central tire inflation system (CTIS) protects the vehicle from pressure leaks and controls pressure in tyres for minimising vibration and shocks when travelling on uneven surfaces.
An anti-lock braking system (ABS) further provides better stability and control for the vehicle.
The protected response vehicle has a turning radius of 8.5m, and can negotiate a gradient of 60% and a side slope of 30%. It can cross a trench of 0.5m, and ford a depth of 0.8m without preparation.