Higuard Medium-Armoured Vehicle, France
---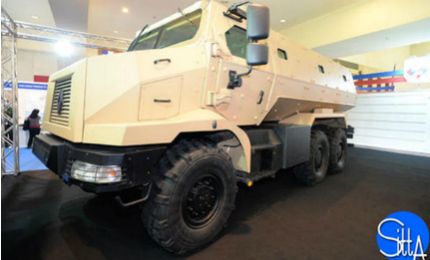 Higuard is a high-mobility, medium-armoured vehicle designed and built by French armoured vehicle manufacturer Renault Trucks Defense.
The troop transportation vehicle entered service with the Singapore Armed Forces (SAF) in July 2015. Designated as Peacekeeper, 40 vehicles will be operated by the SAF's 2nd People's Defense Force unit.
The armoured personnel carrier (APC) variant of Higuard can be configured for mission roles such as command and control, ambulance, protected cargo and road clearance.
A Higuard armoured vehicle fitted with FN Herstal's deFNder light remote weapon station was exhibited at the Eurosatory 2012 trade show.
An internal security version of the Higuard has also been developed for homeland security, critical facilities protection, public order and ambulance missions. It is in service with a number of countries in Asia and the Middle East.
Higuard armoured vehicle design and features
"A Higuard armoured vehicle fitted with FN Herstal's deFNder light remote weapon station was exhibited at the Eurosatory 2012 trade show."
The Higuard mine-resistant, ambush-protected vehicle is based on the Sherpa medium 6x6 truck chassis and is integrated with a V-shaped armoured hull, offering high-level protection against asymmetric threats. The APC is air transportable by Airbus A400M and C-130 military transport aircraft.
The 7.5m long, 2.52m wide and 2.95m high armoured vehicle has a maximum operating weight of 21t and can carry payloads of up to 4t. Its spacious 15m³ interior allows the installation of a number of mission specific equipment and facilitates easy internal communication.
The APC accommodates two crew members and up to ten fully equipped troops. Its crew cabin is accessed through two lateral doors. A ramp fitted at the rear of the troop compartment provides easy entry and exit for personnel, while roof hatches are provided for emergency exit.
Armament and protection features of Higuard APC
A remote-controlled gun turret mounted on the roof of the vehicle carries a 7.62mm or a 12.7mm machine gun. A tear-gas grenade launcher can be fitted optionally.
The armoured personnel carrier is designed to protect its occupants against ballistic threats up to NATO level 3 (Stanag 4569). Its armoured hull offers protection against anti-tank (AT) mines and improvised explosive devices (IEDs).
Optional protection features include a nuclear, biological and chemical (NBC) suite, rocket-propelled grenade (RPG) protection system, radio-controlled IED (RCIED) jammer, fire extinguisher, laser detection system and smoke extractor.
Mission systems
---
---
The MPCV can be integrated onto various armoured vehicles with a payload capacity of 3t.
---
The Higuard APC can be optionally fitted with a variety of C4ISR systems, including UHF/VHF/HF/PMR radio systems, global positioning system (GPS), surveillance cameras, intercom and battle management system.
Driveline, suspension and mobility
The protected mobility vehicle runs on a six-cylinder Renault MD7 engine coupled to a mechanical or automatic gearbox.
The engine has a maximum power output of 320hp (Euro 3) / 340hp (Euro 5) and develops a torque between 1,200nm and 1,306nm at speeds between 1,200rpm and 1,700rpm respectively.
Suspension is provided by axles and elliptical springs. The 395/85 R 20 tires offer increased all-terrain mobility. Run-flat tires can be fitted optionally to enhance safety.
Optional driveline components include a directional rear axle, 6.8t electric winch, bull bar, central tire inflation system (CTIS) and front blade.
Performance of the Higuard APC
The Higuard APC can achieve a maximum road speed of 90km/h and a maximum road range of 1,000km. It has a wheel base of 4m and a ground clearance of 0.39m. Fuel tank capacity of the vehicle is 310l.
The vehicle can climb obstacles of 0.5m and cross trenches of 0.9m, and has a fording depth of 0.8m. It can negotiate gradients of 60% and side slopes of up to 30%.